How to build a business plan for a startup
Business planning is the process of creating and documenting a strategy designed to cultivate growth for your company. Most business planning techniques revolve around three primar
Business planning is the process of creating and documenting a strategy designed to cultivate growth for your company. Most business planning techniques revolve around three primary objectives: maximizing profit, mitigating risks, and communicating a strategy to secure funding. Although there are different aspects of business planning, in most cases, business planning is centred on creating one specific document: the business plan.
No matter what industry youre in or what products or services youre selling, it would help if you had a business plan to guide you. Whether youre launching an online digital marketing agency or opening a local coffee shop, your business plan is the foundation for your growth efforts. Ultimately, the time and effort you put into your business plan development can significantly impact the success or failure of your venture.
But why is a business plan so important? Couldnt you use a website builder to launch a site within minutes or have a minimum viable product within a few days? While starting something is simple, solidifying it is not.
Startup founders dont always see the value of a business plan, particularly when they dont plan to raise money right away and are silk working out the cracks and kinks of their product. But regardless, think of a business plan as the bedrock for your company.
This detailed document is much more than a description of what your business does and how it does it. It can be used to secure loans and other forms of funding, solidify your milestones, help you better understand your market and competition, and outline your financial needs and feasibility. In short, it can prevent you from walking down a dead end.
Business Planning Tools
A myriad of tools and services exist to help entrepreneurs develop business plans of their own. Many companies offer their own version of a small business plan template to guide business owners through the process. However, numerous services are dedicated to helping business owners build out certain portions of their business plans. For example, business owners could outsource micro and macroeconomic research, financial planning and forecasting, and marketing agencies. Additionally, they can work alongside business plan writers to help them create a document thats most likely to appeal to investors and lenders.
Business Plan Table of Contents
Understanding the benefits of a business plan is one thing, but writing it is entirely another. Start by checking out different industry-specific templates for inspiration. From there, follow the tried-and-true format using this table of contents.
Each section provides valuable insight into how you plan to build your business, both from a high-level overview and a detailed perspective. Its important to note that business plans arent just for lenders and investorsits also for you. Many business owners have found that their business plans help foster accountability and guidance. With that in mind, heres what you need to include in a winning business plan:
1. Executive Summary
2. Company Details
3. Market Analysis
4. Customer Analysis
5. Competitor Analysis
6. Marketing Plan
7. Operations & Logistics Plan
8. Management Team
9. Financial Plan
10. Appendix
Executive Summary
Your executive summary is an overview of your startup. This section provides the reader with a quick synopsis of the overall business plan. The executive summary should be written last to properly convey and summarize the contents in the rest of the document.
For example, once youve written a thorough analysis of your target market, itll better equip you to include a short synopsis of it in your summary. This section highlights the key points youll cover in your business plan by defining your mission and strategy.
Your executive summary should:
Include a captivating introduction to your business
Describe the problem your business is trying to solve
Explain how your company offers a solution to a problem
Describe products and services you offer
Address how you plan on reaching your customers with your marketing efforts
Include your projected revenue
Introduce the team
Company Description
The Company Description section of your business plan covers three key components: who you are, what you do, and why you do it. Begin by creating an elevator pitch and then expound upon it.
For example, lets say youre trying to raise money for your package delivery startup, ParcelPass. Your elevator pitch might be: Think of ParcelPass as an Uber for package deliveries. When you need something delivered locally, request a GPS-enabled vehicle through the app. ParcelPass arrives, picks it up, and hand-delivers it to its recipient.
Remember, the company description is designed to sell. Not only does it help readers understand your mission and unique value proposition, but it can also help you practice pitching your company to others, both verbally and written.
Your company description should:
Share your origin story
Offer basic company history, such as location and start date
Explain how you developed the business concept
Include relevant industry information
Describe your team in detail (including qualifications and background)
Include a mission statement and vision statement
Heres an example of a Company Overview introduction from Cadys Cookies, a fictional cookie company developed by Planbuildr: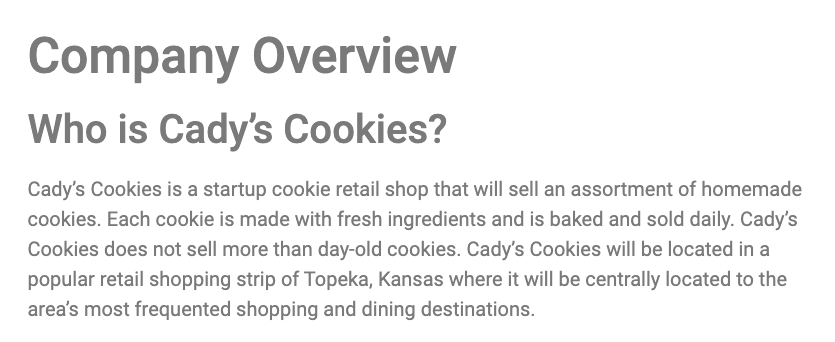 Market Analysis
Your market analysis is one of (if not the) most important parts of your business plan because it tells the reader that you have a verifiable market. How your business performs in your industry depends on the market, and its crucial for you to present proof that the current (and foreseeable) market leans in your favour.
Your market/industry analysis shows how comparable businesses in your industry perform and highlights market demand. You can find plenty of free market research resources that offer relevant market data, or you can hire a market research firm to spearhead this section for you. In short, your market analysis will provide quantitative and qualitative assessments for your industry.
Your market analysis should:
Describe customer segments in your market
Highlight favourable buying patterns
Explain how you intend to build brand loyalty and acquire repeat customers
Provide an analysis of your competition
Identify historical trends that have shaped your industry
Include relevant statistics, including market size, market growth, and future growth estimates
Customer Analysis
Who are your customers? This is the question that the Customer Analysis section of your business plan aims to answer. This section dives deeper into your target market and addresses how you plan to solve their pain points.
These pain points can be versatile and multi-faceted. For example, if you own a long-distance moving company, a potential customer pain point might be finding a business that knows how to handle the fragile or expensive property. Another pain point might be finding vetted drivers with outstanding long-haul driving records.
As you write your customer analysis, consider buyer personas or ideal customers. Use this persona as a model for your written description. Describe their demographics, personality traits, buying patterns, income and education level, and hobbies.
Your customer analysis should:
Offer a holistic overview of your ideal customer
Describe your customers pain points
Explain how you can solve your customers issues
Assess customer buying patterns
Acknowledge your proximity to your customers and how you plan to reach them
Competitor Analysis
Your competitive analysis should answer the question, Why is my business better than other businesses that offer similar services and products? This is where youll communicate how you plan to outperform your competition.
Competitor research is crucial because it explains what makes you different, helps you understand why theyre succeeding, and identifies gaps that you can leverage to build a better business.
Your competitor analysis should:
Explain how your business differentiates itself from the competition
Describe strengths your company offers that your competitors dont
Highlight key advantages in management or operations
Illustrate issues your current competitors are having and explain how you plan to address them
Marketing Plan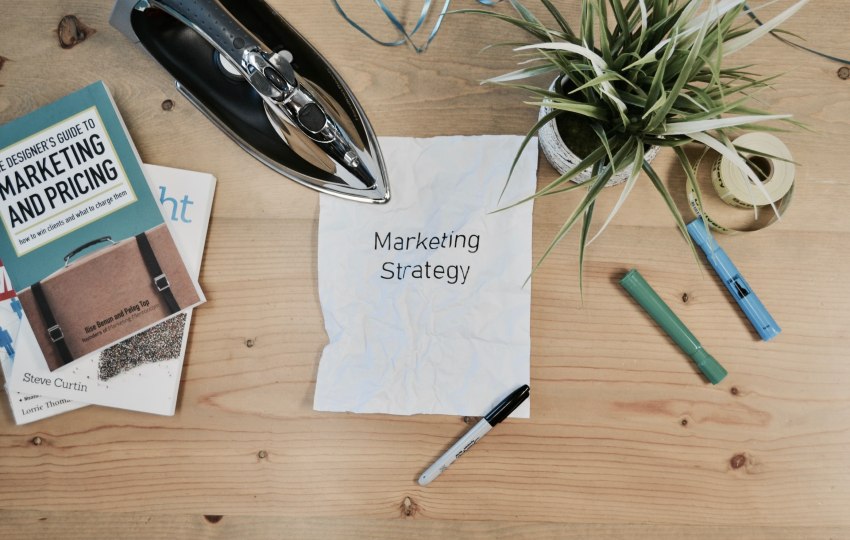 Your marketing plan should explain how you intend to reach your target market. It should be determined by the specific needs of your target market, as described in your customer analysis. Overall, your marketing plan reveals how you intend to reach potential customers, build brand awareness, and educate your market.
Your marketing plan should include four key sections:
1. Products. What products or services do you offer, and what makes them better than similar offerings? Are there any particular features or benefits?
2. Promotions. How do you plan to promote your organization? How will you spread the word and attract customers? Your promotion plan should include a detailed description of how you intend to position yourself in front of buyers. This could consist of advertising, product giveaways, influencer marketing, content, or content marketing.
3. Price. Whats the cost of your products? Justify higher prices when necessary and leverage lower prices if possible.
4. Place/Distribution. This section describes where you sell your products and how you sell them. Are you selling your product online, in a retail shop, or both? What are the benefits? If you plan to sell wholesale and direct, describe these channels as well.
Operations & Logistics Plan
Your Operations and Logistics section describes the workflows and processes youll implement to make your business plan come to life. Your operational objective covers several factors, including how each of your departments supports different operational goals. This section will also outline strong contingency plans in the event of unexpected circumstances. In this area, make it clear to the reader that you have a strong understanding of your supply chain.
Your operations and logistics analysis should:
Describe who your suppliers are
What your production process will look like
Define key metrics and milestones
List the necessary equipment and technology to keep your business running
Describes your shipping and fulfilment needs
Explain quality control measures
Management Team
The people behind your business can make or break its success. This section of your business plan describes the team in detail and explains why their qualifications and experience make them well-suited for success.
Investors arent just putting their dollars into products and services but the people building the brand. The calibre of your team plays a significant role in helping readers understand your businesss willingness and readiness. Lastly, this is where youll explain how each team members skill set contributes to the companys bottom line.
Your management team section should:
Provide biographies for key team members
Highlight educational achievements, experience, and accomplishments
Describe how your business ownership is structured
List any external management resources, such as an advisory board
Financial Plan
No matter how much hard work youve put into growing an idea into a business, its financial welfare will be the ultimate determination of success. Your financial plan is designed to help financial investors understand what to expect now and in the foreseeable future. In short, it explains how youll generate income. It would be best to work with an accountant, bookkeeper, or third-party financial planner to shape this section of the business plan.
The financial plan is typically broken down into three parts:
1. Income statement. Income statements show revenue sources and expenses over a given period.
2. Balance sheet. A balance sheet reveals the equity you have in your business, considering the assets you own and the liabilities you owe.
3. Cash flow statement. The cash flow statement is whats left when expenses are paid, and revenue is collected.
Appendix
The Appendix closes out your business plan and provides supporting materials or documentation for previous sections, such as balance sheets and income statements. Essentially, this is where you put all the essential details that you didnt include in prior areas. The appendix exists to keep the business plan concise early on so as not to bulk up the portions of the business plan where content matters most.
Your appendix should include:
Detailed financial forecasts
Business credit history if available
Applicable patents or trademarks
Management team resumes
Market research
Conclusion
Writing a winning business plan is no walk in the park, but its important to put proper time and effort into building it out. Many great businesses fail to get funding because they miss the mark in terms of their business plan and fail to convey the viability of their company.
As you create your business plan, reference templates and actual, archived business plans. Use these as inspiration and guidance, but dont forget to customize your plan as much as possible. You dont want your business plan to be a copycat of everyone elses template at the end of the day. Be original and thorough, and your plan will speak for itself.
Video liên quan